Gym4Dance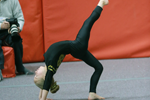 Gymnastics for Dance is a 45 minute class for dancers aged 8+. Concentrating mostly floor skills, in this class you can learn and develop gymnastics skills such as walkovers, flics and aerials used in dance in a safe environment taught by qualified coaches. The class also includes flexibility and conditioning drills needed for all dancers, regardless of style.
Gymnasts will need a reasonable bridge, cartwheel and handstand to join this class
Fees are payable on a termly basis and all gymnasts will require British Gymnastics membership after their first session.
Thursday
4:30 - 5:15pm (Age 8+)