Disability Gymnastics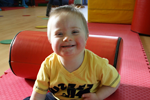 Regis Gymnastics has a track record of inclusivity, from our little Gym Joeys to Squad and Freestyle. Whereever possible we try to include people with disabilities into our mainstream sessions.
For those with more needs we will soon be offering dedicated sessions with our disability trained coaches, please get in touch to find out more and register your interest.
Rebound Therapy
We also offer bookable Rebound Therapy sessions. This is a form of physical therapy which uses the trampoline to provide an enjoyable sensory experience and enable people with more profound disabilities to access gymnastics.
Examples of benefits include:
Cerebral Palsy – the oscillation of the trampoline can aid hypertonia
Cystic Fibrosis – Using the trampoline is a more efficient and fun way to undertake the regular physiotherapy required
Wheelchair users – the trampoline movement aids circulation, digestion, toileting and stimulates movement in the internal organs
Autistic Spectrum Disorder and Challenging Behaviours – Sessions can be conducted individually. The process of the therapy encourages social interaction and users often become more animated and vocal on the trampoline.
Funding for treatment may be available from the NHS or other grant making bodies. We welcome enquiries from carers, schools, social services and other organisations working with disabled people.
A disability gymnastics programme has been in place at British Gymnastics since 1985. Previously known as GMPD; (Gymnastics & Movement for People with Disabilities) it now has the new name of 'Disability Gymnastics'. The disability gymnastics programme ensures that gymnastics is adapted to meet the needs of each gymnast. Through the delivery of disability gymnastics, coaches can enable all disabled gymnasts to achieve their full potential, focusing on what they can do, not on what they can't do. From fundamental movement activity to elite gymnastics skills, disability gymnastics has something exciting, fun and engaging for all disabled people to enjoy; it is also widely recognised as providing many physical and social benefits for participants, such as developing increased coordination skills and building confidence. Disability gymnastics is a far more recognisable and inclusive title for this exciting programme.