LATEST
Summer Term the last week of term is the week commencing 10th July.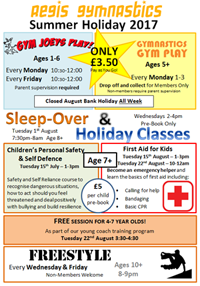 Summer Holiday 2017
Over the summer holidays we have gym play sessions for ages 1-6 and 5+, classes, special first aid and self defense workshops and a sleepover! Classes, workshops and sleepover need to be booked in advance, download the booking form here.
VERY IMPORTANT
British Gymnastics Membership 2017-18
EXISTING MEMBERS: Your British Gymnastics Membership runs out in SEPTEMBER and MUST be renewed if you are continuing with your gymnastics. Due to a change in legislation British Gymnastics Memberships must now be purchased by YOU via the British gymnastics website rather than through the club. This needs to be done in SEPTEMBER.
Once you have purchased your membership we will be notified and mark it on our registers.
IMPORTANT: Even if you have paid your class fees we CANNOT allow anyone to participate if they do not have valid membership, please make sure this has been done. On the plus side memberships should be cheaper this year!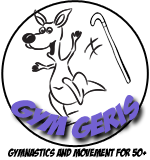 COMING SOON
Movement classes for seniors, work on strength, balance and co-ordination. Suitable for complete novices. Please contact us for more information and to register your interest.